YOUTH

For more information about our Youth Ministry programs, contact our Director of Youth Ministry, Carly Hubers, at carly@fccstjoseph.org.
SUMMER 2021
Email Carly at carly@fccstjoseph.org for a full list of summer events and details.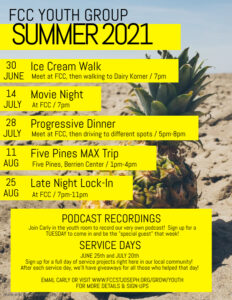 —
What is your mission statement for youth ministry?
We know there are lots of great activities that provide middle and senior high youth with opportunities to get connected! Our primary goal for our youth ministry programs is to invite students to grow as disciples of Jesus Christ. Our goal as Christian Education volunteers is to engage and emphasize the following:
We help young adults discover God through prayer, Bible reading, worship, giving, selfless serving, and spiritual friendships
We help young adults learn that God has a plan and purpose for their lives– God cares about OUR story
We equip our students to grow in their faith journey by aiming to create a space where tough, real questions can be asked and wrestled with as a community
We will emphasize that discipleship includes faith (personal and communal spiritual growth) and deeds (acts of giving and service)
We recognize that these goals cannot be fulfilled solely by the efforts of the church. We affirm that one of our greatest duties is to help parents become leaders in this development process. It takes several committed adults to mentor and support each young person in our program. We strive to build a youth ministry that creates a network of dedicated leaders who embrace this vision.
When does the Youth Group meet?
Due to COVID-19 closure, youth group has currently switched to a new model. Contact Carly for more info.
Youth Group is open to students in grades 6-12. Both Middle and High School Youth Group meet on a regular basis for various Bible study, fellowship, and social events.
To be added to our email list, please contact our Carly Hubers (Director of Youth Ministry) at carly@fccstjoseph.org.
When can my student be confirmed?
Confirmation classes are open to any student in 7th-12th grade, beginning in the fall and then completing in the spring with a Confirmation Sunday. Please contact Pastor Jeffrey or Carly Hubers for further details.